In the checkout process you can choose to add the full 15 weeks to your cart or pick and choose your dates. In the 'payment options' you can purchase a single class, a 5 pass, a 10 pass, a 15 pass or a 20 pass – each pass gives you a discount. Once you have purchased the pass you can click 'Book' on a class and 'Confirm' to book your spot in class.
Let us know if you need to skip a class so we can help you reschedule with minimum effort
How to book a class: 
(instructions follow below) 

To learn how to book on the website watch this video.
To learn about booking with the purple achieve app watch this video.

 1. Check out the full schedule and choose your class. Click on the class name to read more about it! (schedule is at the bottom of this page)
  We are currently offering: Non-Apparatus Classes (Pilates Mat classes, TRX, Fascia Release and Essentrics) and Apparatus Classes (Pilates classes using equipment in the lower studio) as well as Private and Duet sessions (book these by calling the studio).
 2. Click the Book Now button
 3. Sign in or create an account
 
 4. If you only want to book for a single class, click next (in the lower right) OR 
 5. If you want to book 5 or 10 classes (for the discounted rate) toggle the 'book recurring' switch and add the number of classes you would like to book (number of booked classes) and click next.
6. Select your purchase option (single class, 5 pass or 10 pass).These passes are the payment options (pass=payment). 
Click NEXT and pay for the class with your credit card.

7. You can now find your booked classes in your schedule (found in the upper right hand 'hamburger' menu).  You can cancel classes at no charge up to 24 hours prior to class.  If you have to cancel a class you can book into another session of the same type to make up for it.

We have two class types: Apparatus and Non-Apparatus.  The fee for each is different you can make up a class with any class of the same type.

 

 
*what's a hamburger menu? the three lines, stacked together as pictured at here.



You can also make changes to your schedule in the wellness living Achieve App an easy way to access your class schedule.
Come and try out a variety of classes free of charge! Preregistration required.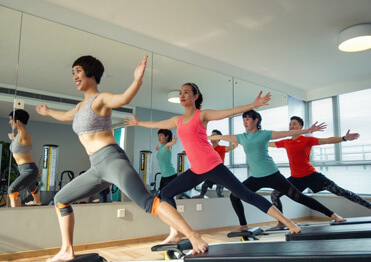 Our 10 week sessions feature a variety of days and times.
Classes that pair well with Pilates: Fascia Release, Essentrics and TRX we teach a variety of classes for Every Body!